We're glad you are aboard to join us for our voyage as we travel the world's oceans. This site is designed for our family and friends to accompany us on our passages and to help those sailors, armchair and otherwise, who may wish to follow in our wake to their own cruising destinations. Some of the information is designed to educate our landlubberly friends who have never sailed and other areas are for those preparing their boats for ocean crossings. We hope there will be plenty here to inform and entertain everyone
.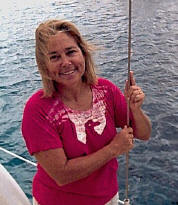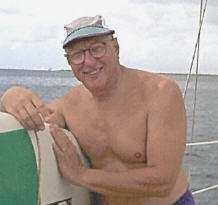 Fair winds,
Rob & Dee
March 2012-- Completing our Circumnavigation of the World
Ventana exited the Mediterranean on October 20, 2011 at the Straits of Gibraltar and headed out into the Atlantic Ocean. After stops in Morocco, the Canary Islands and Cape Verde's we were ready to cross the Atlantic Ocean. Departing the day after Christmas for our third major ocean crossing we expected to be at sea about 16-18 days, before reaching Barbados. Unfortunately we had our roughest ocean passage ever and after 17 days our trip finally ended- not with a bang but a whimper. After a week of licking our wounds in Barbados we set off for one of our favorite stops in the Caribbean- the Tobago Cays. It was here at 10:07 am on January 18, 2012 that we crossed our previous outbound track thus completing our 17 year 50,000 mile circumnavigation of the world . What a tremendous feeling of accomplishment!!
The truth at last...we won the lottery
When we departed to go cruising Rob was only 42 years old and Dee a bit older. Most of our family and friends could not believe we could afford to retire. No matter how politely they phrased it eventually most asked how we could afford such a lifestyle. Usually we mumbled something about investing wisely in the stock market but the truth is we can afford to cruise because we won the lottery. Until now we have not talked about it but our win was bigger than the New York State Powerball prize. To read the entire story click here.
Our Indonesia scholarship program's first student graduated cum laude in 2010 and has since been joined by several others. by 2014 there we had 14 kids in University or graduated. Congratulations to all our students- we are very proud of you.
The Scholarship Program that Dee and I started with the participation of the 2006 Sail Indonesia Rally awarded its first college scholarships in 2006. Since then eight more scholarships have been awarded bringing the total to eleven students now getting university educations through our program. You can read about it here.
To read about our four month, 9,000 mile 4 wheel drive safari in Africa- click here
Recently added pages
The two most common questions we get asked are about storms at sea and pirates. For those of you wondering we can now tell you about both.
To read about a Pirate encounter click here.
To read about a storm at sea click here.
For those who like the drama you can read about our near disaster in the Red Sea here.
A new section has been added to our website- Cruising Notes
The Cruising notes pages are specifically directed at other circumnavigators who are behind us and may benefit from our experiences. They are brief unvarnished notes with details on anchorages, winds, weather, dive sites, where to get gas and groceries, etc. Most of them were written as email advice to our cruising friends who were coming along in our wake. To jump to the cruising notes click here.
New pages added November 2010
New pages added May 2010
New pages added September 2009
New pages added June 2009
New pages added March 2009
Insurance Nightmare
Not long ago we discovered that the cruising insurance that had cost us nearly $ 5,000 was invalid and that a disreputable broker (Al Golden of International Marine Insurance) had taken our money and not purchased any insurance. As a warning to other cruisers please read that story here.
Older pages
Having lived aboard Ventana and been cruising full time since 1996 we decided in 2004 to temporarily switch gears, so in October 2004 we began an entirely different adventure as we returned to the United States and began a tour of America. With Rob flying a tiny homebuilt gyroplane and Dee driving a 35' motorhome we explored America. A gyroplane looks like a miniature helicopter and usually flies only a few hundred feet off the ground at about 60 miles per hour. Rob became the first person in history to fly a continuous trip by gyroplane to all 48 states in the Continental U.S. Upon completion of the trip he received the prestigious Pioneer of Vertical Flight Award from Groen Brothers Aviation. To read about that adventure visit www.GyroAmerica.com
Early in 2006 we explored a bit more of Australia by car as well as spending 3 weeks in Tasmania-- Australia's large southern Island. Following that we diverted to the U.S. again for an exciting 3 week kayak/raft trip down the Grand Canyon in Arizona.
To read about our Australian adventures- click here.
In May of 2006 we returned to our sailboat in Australia to begin the long 2,200 mile sail up the east coast and over the top to Darwin. In July of 2006 we joined the Darwin, Australia to Kupang, Indonesia rally. From there we sailed through Indonesia to Bali. In early October we continue on to Borneo, then Malaysia with stops in Singapore, Lankgawi and on to Phuket., Thailand by December of 2006.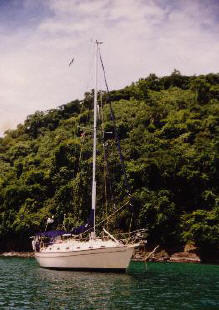 Ventana at anchor in Englishman's Bay
Tobago, 1996
About the Dubins:
Rob's background is adventure. Mountain climbing including reaching the summit of Alaska's Denali, kayaking unexplored rivers, downhill and cross country skiing, scuba diving, piloting small aircraft, bicycling, mountain biking and of course sailing.
Dee's background is varied from working on minority employment programs, to banking to construction. She too is an avid skier and mountaineer and experienced kayaker, scuba diver and sailor.

Rob & Dee were married in 1982 and at that time Dee discontinued her job as a condominium construction superintendent and joined Rob in his company, Alpine Film Productions. Over the next 15 years they produced hundreds of TV commercials, television programs, corporate films and sports documentaries. With Dee working as a Producer and Rob as a Director/Cameraman they traveled throughout the world for clients such as ABC, NBC, CBS, ESPN, The Travel Channel and many Fortune 500 companies. In 1989 they launched Sailing Quarterly Video Magazine, a videotape series covering the sport of sailing. In the process of videotaping these programs the Dubins learned sailing from their program hosts including America's Cup veteran Gary Jobson and ocean veterans Tristan Jones, Hal Roth, Don Street, John Rousmanierre, Robert Perry and others. Spending 10 -15 days of each month on the water from 1989 - 1995 the Dubins had the opportunity to sail on hundreds of boats from Tonga to Norway, Romania to New Zealand. The boats included typical charter boats to circumnavigators to America's Cup and Whitbread racers resulting in a broad experience covering all aspects of the fascinating sport of sailing. In 1995 the Dubins put down the cameras sold the house, bought a new boat and began to live the life they had been filming.
Where in the World is Ventana
Right Now?

Through the incredible wonders of technology you can see a map of the world showing exactly where we are in near real time.
Ventana will be indicated by Dee's ham radio call sign which is KG4AYO
When you are through the back button on your browser will return you here
Click here to see where we are

In addition to seeing a map locating Ventana you can also find out
our latitude and longitude and sailing conditions.
For an explanation of the technology that makes this possible click here.
For an explanation of latitude and longitude click here.
Our website is large so if you do not find what you are looking for please click here to go to our contents page .
You can also check in our links page for others that can help you.