Singapore Malaysia Thailand SE Asia Burma Cambodia Vietnam Laos Sri Lanka Maldives Oman Yemen


Passage from Maldives to Oman
1,250 miles- 11 days
Storm at Sea
We made the 1,250 mile passage from Maldives to Oman from the end of February to early March 2009. Most of the 11 day passage was wonderful but two days before landfall we went through a very bad storm. This was only our third major storm at sea in 14 years which is not a bad average. But when you are out in the storm getting hammered...statistics don't mean much.
The trip had started out wonderfully when only an hour after our departure we were surrounded by spinner dolphins who put on a sea world like show just for us. One of them would leap vertically out of the water and do back flips sometimes landing nose first for a smooth dive into the water and other times doing a full flip and landing on his tail or side with a big splash while nearby others would come straight up out of the water and do a vertical 360 degree spin before falling back to the sea. It was a fantastic display.
Later that same day we had the spinnaker flying giving us good boat speed in mostly calm waters. Several days we caught small tunas and had fresh sushi and grilled tuna steaks for lunch or dinner while other days Dee made fresh bread and pizzas.
Each morning we would check in with our friends on other boats via the SSB radio nets. The boats were spread out over hundreds of square miles of ocean but most complained of light winds and too much motoring. Luckily we seemed to be in a area of better winds and did less motoring- we were sailing slowly but at least we were sailing.
For the last few days of our passage the weather predications were for very light winds. On our eighth day at sea we awoke to very light winds and the closest boat to us, 100 miles ahead reported the same conditions, so we anticipated a day of motoring. However by 10 am the wind had picked up to 25-30 knots and was still building. The swell was from a different direction than the wind so the seas built quickly into square sided monsters.
This continued until near sunset when the wind climbed up to 35 knots and the seas built and built. We've gone through many short squalls with stronger winds but this was now into 15 hours and the seas were huge. The wind was to continue above 35 knots with gusts of 45 knots for another 12 hours followed by 12 more hours of 25 knots. Thirty six hours total and the type of breaking seas that develop with such conditions. By late afternoon we were down to a double reefed main and a portion of the staysail, and I was very glad I was on a cutter rigged boat. The wind was on our nose so we had cracked off to 60 degrees apparent but were still making miles towards our destination.
I stood my 6 pm til midnight watch down below only coming out every 15 minutes to look around. Dee was off watch but sleep was not possible so we both lay down and hung on as wave after wave crashed into the side of Ventana sounding like cannon shots. Some waves broke over the cabin top and we had green water over the entire boat. Others smashed into the hull with tons of water shoving the boat sideways several feet through the water. Occasionally the autopilot would lose course and twice in the middle of the moonless night Dee had to hand steer for a bit while I played with sails to balance the boat better.
When the waves broke onto the hull it was the most amazing feeling. All the stuff in the boat was lashed down but you could still hear everything inside shake and move- but the boat itself acted only as one unified whole- it all moved together and nothing flexed at all. I watched the mast and rig and bulkheads and it was like the waves were hitting a rock. The entire rock was moved sideways but the rock itself was not affected. I was thankful we were on a sturdy Island Packet as it is much more heavily constructed than most fiberglass boats.
I had slowed the boat way down and as long as we were in no danger of surfing off a wave or falling into the trough I felt we did not need to heave to, so the entire time we proceeded slowly towards our destination.
Our first such storm many years ago was scary but fortunately we were crew on a big boat with an experienced captain and other experienced sailors. With that experience and others behind us we were able to take this storm in stride. In the words of our sailing mentor Steve Black "we could tell the difference between life threatening and just really uncomfortable".
Since leaving Thailand we had been heading NW and now as we continued away from the equator the Southern Cross appeared lower and lower on the horizon and each night the familiar constellations of the Big Dipper, Orion and North star resumed their rightful places in our night's sky.
For us on passage each day is marked by our watch schedule. Many cruisers do 3 or 4 hour watches at night but we prefer 5 hour watches and even tried 6 hour night watches for awhile. We feel the longer watch really gives you a chance for better sleep than the shorter watch schedule, and as long as the autopilot is steering, the watches are not too onerous. We eat dinner about 6 pm and then from 7 pm until midnight Dee sleeps while I'm on watch. At midnight I wake Dee and tell her what sails are set and what the wind is doing. Plus any details of traffic or navigational hazards then I turn in while she takes over until 5 am. At 5 am we switch again and Dee sleeps again until 7 or 8 am and then she is up for the rest of the day. Rob will usually check in via the morning single side band radio net with our friends on passage, then take a short nap around 9-10 am. After that we spend the day on deck together with a loose watch. If it is comfortable sea conditions Dee may cook something special like bread or pizza while Rob works on the computer or does minor maintenance tasks. Some days we just read and jump up occasionally to land a fish while other days it seems we must change sails every half hour to meet changing conditions. At 6 pm we start all over.
Most people sailing around the world go "Westabout" - that is traveling ever westwards until we get back where we started from. This puts the prevailing winds and currents behind you making for easier sailing and faster passages. That means each of the hundreds of days we have spent at sea starts with the sun coming up out of the ocean behind us and each day ends with the sun dropping away over our bow while we chase it.
To enlarge any photo click on it then click on the back button to return here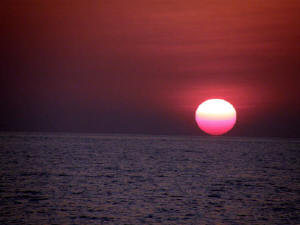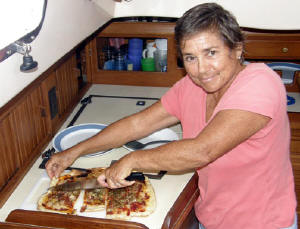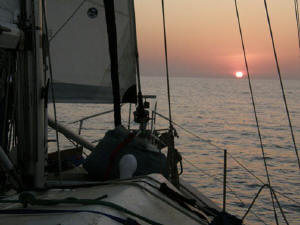 Sunrise over the stern yum...pizza Chasing the sun westwards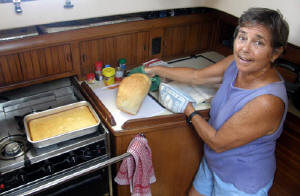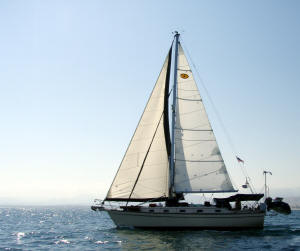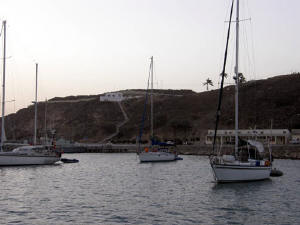 Baking bread and cakes on passage Ventana under sail in light winds Anchorage - Salalah, Oman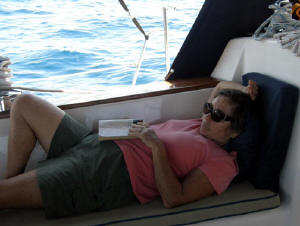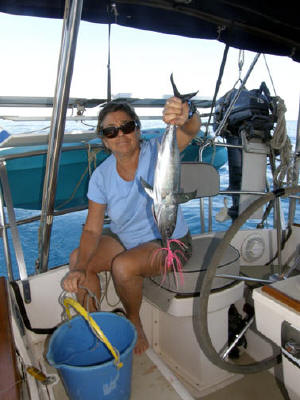 Kickin back Dee with a small tuna
Oman
Oman is a wealthy country and Salalah where we checked in is a huge container port. The officials were in a glass walled tower on a hilltop and operated just like an airport control tower. Everything was very efficient and to our surprise there was no hint of the "baksheesh" or bribes we had been expecting. The terrain was dry desert with wild camels wandering around just outside the city. The men all dressed in long flowing white robes (called Thobes) while the women were covered head to foot in black burkhas.. The buildings were well built utilitarian concrete structures but were very severe and seemed to lack any sense of esthetics.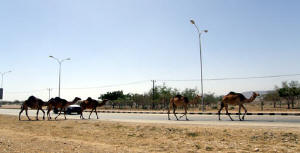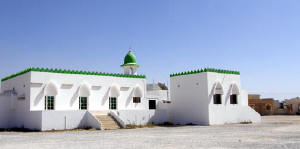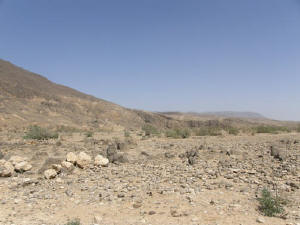 Wild Camels Mosque Oman Desert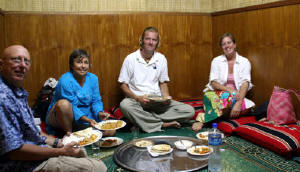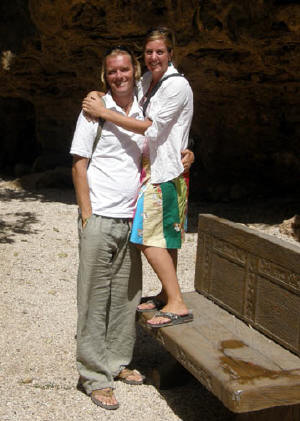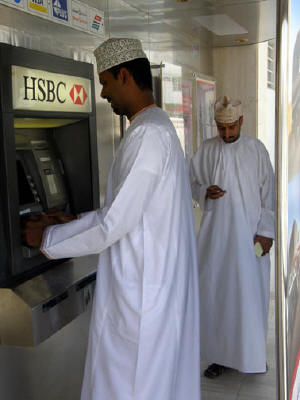 Omani lunch in Sallah Our friends Matt & Rose from Typical dress- a thobe
Delicate Dawn of Amsterdam