Singapore Malaysia Thailand SE Asia Burma Cambodia Vietnam Laos Sri Lanka Maldives Oman Yemen


Thailand remains one of our favorite countries on the planet. We had first sailed here in 1989 with the legendary Welsh sailor and author Tristan Jones and we were anxious to be back. The scenery is spectacular and the food is fantastic but most of all it's the warmth of the people that make it such a special place. Thailand is often called the land of smiles- and for good reason. Almost everyone you meet will greet you with a warm heartfelt smile. The Thai smile is not something they do with their mouth alone, rather it starts in the heart guided by the gentleness of their Buddhist beliefs, then it spreads to their eyes, next it lights up their entire face and finally they bestow upon you a wide white toothed beaming smile that warms your own heart. When the smile is in a lovely face and framed by the long dark hair of a beautiful Thai woman you understand why so many Western men come here and never leave.
We ended staying in Thailand for three years and enjoyed every minute of our time in there. In addition to exploring the area around Phuket and Phang Nga bay where our boat was we also traveled into Northern Thailand visiting Chang Mai, Chang Rai, Mae Hong Son and the delightful town of Pai.
Thailand is mostly Buddhist and everywhere you go there are Wats or Buddhist temples and you often see monks in their orange robes chanting or praying and taking care of the temples.
While in Thailand we were visited once again by our friends Frank and Tina who have both known Rob since their teens. With them we explored the fantastic limestone monoliths of Phang Nga bay where a James Bond movie was filmed. The limestone towers that jut directly out of the sea are filled with interesting caves - called hongs. Frank and Rob got to drive a typical Thai long tailed boat - these are powered by a large lawnmower engine mounted on a universal joint with a 15 foot long propellor shaft. Often in the mornings the fisherman would come by and sell us inexpensive buckets of fresh shrimp.
We always treasure getting to know some locals and learn what their lives are like. In Phuket we made friends with Joop, the owner of a small local restaurant where the food was fantastic so we ate there as often as we could. We had her and her kids out to Ventana and later she insisted on cooking a meal for us at her home- what a treat, by far our best meal in Thailand. And that is really saying something as almost every meal we had in 3 years was fantastic.
While in Thailand we had a new mainsail made by Rolly Tasker- an Australian who has set up one of the largest sail lofts in the world there. The crew that made our sail had been making sails for years but had hardly ever been out sailing as most of the sails are shipped overseas. It was a great treat to take them all out for a daysail aboard Ventana.
On our trip to Northern Thailand we rode elephants, explored with our friends Dave and Marcia from the boat Strider (formerly Manana), and visited the remote hill tribes. The hill tribes in Northern Thailand have migrated there recently from Burma and are in effect stateless and landless peoples. As we see the world over it is the women who maintain the traditional dress and customs of their people and also like we see the world over the women have been subjugated by the men. In the case of the long neck Karen women they were "protected" by having them wear neck bracelets which supposedly made them undesirable to outside men. The actual effect is to deform their shoulders and collar bones.
To enlarge any photo click on it then click on the back button to return here.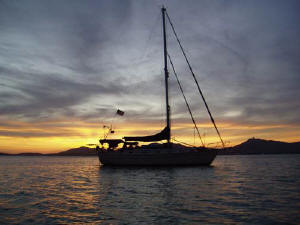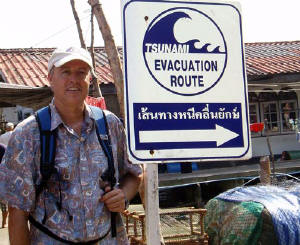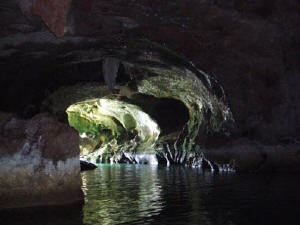 Ventana at anchor Reminders of 2004 Inside the hong caves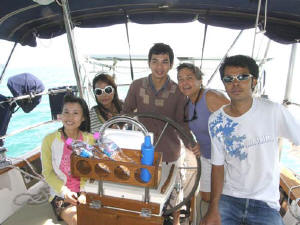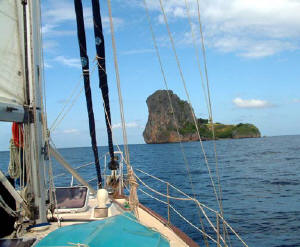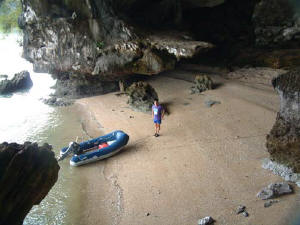 Our sailmakers from Rolly Tasker Ventana heading into Phang Nga Bay Rob exploring a hong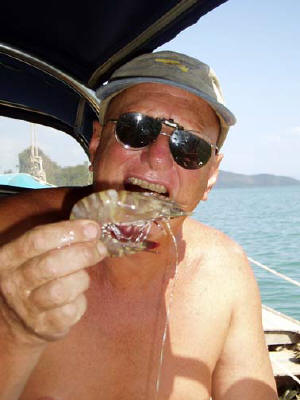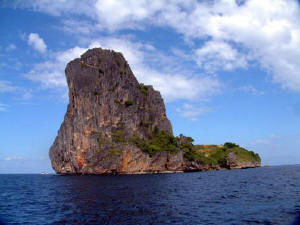 Fresh Prawns The limestone monoliths of Phang Nga James Bond Island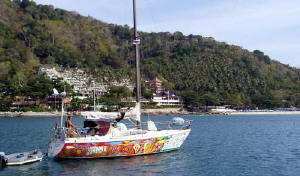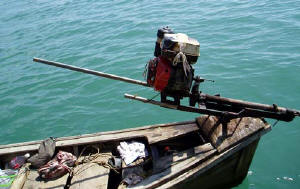 They let the kids paint the boat Longtail fisherman Longtail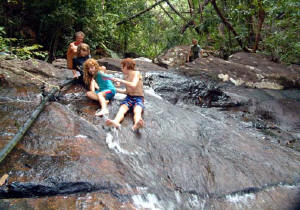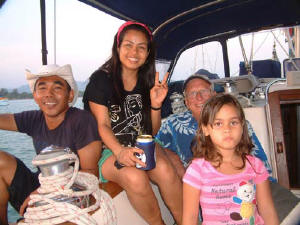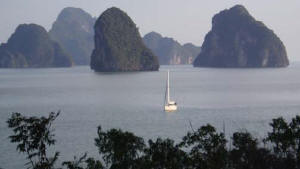 The kids from Vagabond Heart Ah, Joop, Rob and Angela Ventana in Phang Nga Bay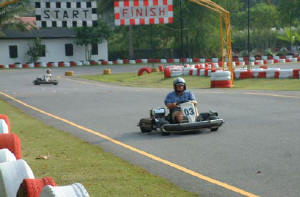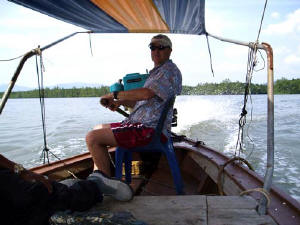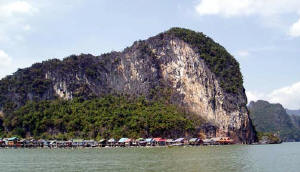 Bryan from Anon at the go-kart track Frank driving the longtail Floating Village- Phang Nga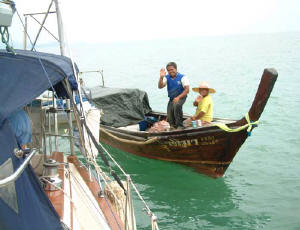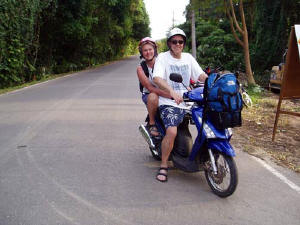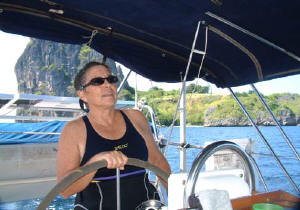 Fisherman bringing fresh prawns Frank and Tina exploring Dee at the helm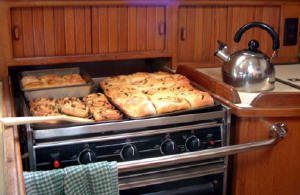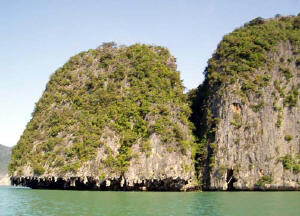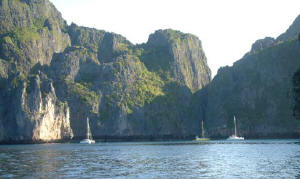 Dee baked fresh cinnamon rolls for Christmas gifts Phang Nga Bay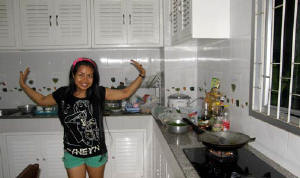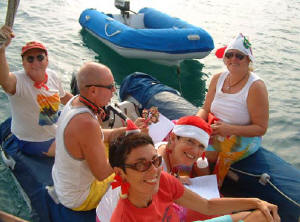 Our friend Joop- chef extraordinaire in her kitchen Rob, Mark, Sarah, Amanda, Gretta going boat to boat and singing Christmas carols
Northern Thailand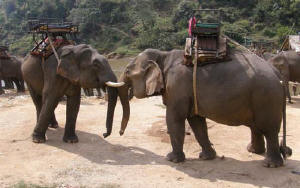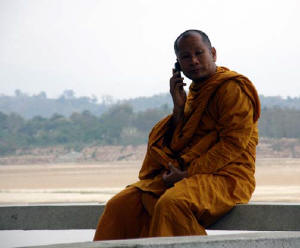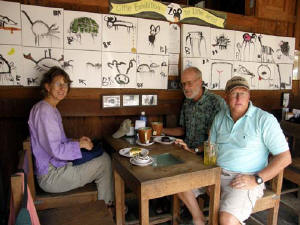 Thai Elephants Monk on his mobile phone Marcia, Dave and Rob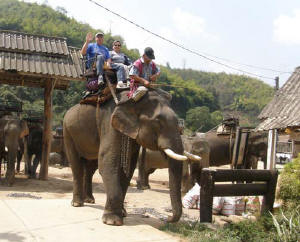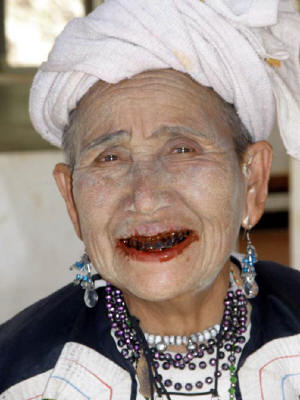 Rob and Dee elephant riding Woman chewing beetle nut
And it was with a heavy heart that we finally left Thailand to sail westwards and continue our way around the world.