Boat Modifications Major Systems Anchors Communications Electrical
Engine Plumbing Refrigeration Sails and Rigging Cockpit Deck Gear
Interior Navigation Station Safety Gear Spares Stowage
"
Ventana" means window in Spanish and she is truly our
Window to See the World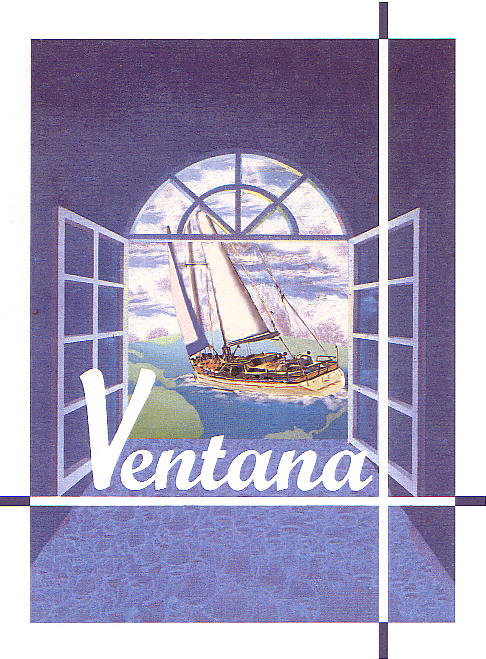 About Ventana's Name and Logo
Since Rob's days in junior high school when his 3rd floor math class windows gave him a view of the snowcapped Rocky Mountains where he would rather have been he has always liked the concept of how a window could transport you from one world to another. What better analogy for our boat which would bring us to distant lands. The word in Spanish has the magic of a foreign language and a lyrical ring we enjoyed.
Dee had toyed with several logo design concepts though had never finalized them. After 5 years of cruising we chanced to be in Guatemala where we befriended two beautiful sisters. Following a weekend sailing on Ventana the younger sister, a graphic designer named Brenda Ciraiz presented us with this wonderful logo.

Dee later went on to make a needlepoint of the design adding stars overhead in the night sky. Click the photo below to enlarge it. The back button on your browser will return you here.
Ventana was built by the Island Packet Company in Largo Florida
and is a 40' Cutter rigged sailboat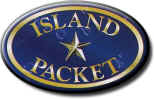 Specifications

Length Over All 41'6" (12.7 m)
Length On Deck 39'4" (12.0 m)
Length Water Line 34'0" (10.4 m)
Beam 12'11" (3.9 m)
Draft 4'8" (1.4 m)
Mast Above DWL 53'8" (16.4 M)
Fuel 90 Gallons
Water 170 Gallons
Displacement new specs 22,800 lbs.
Displacement loaded 33,000 lbs.
Ballast 10,000 lbs
Sail Area Displacement Ratio 18.04
Displacement Length Ratio 259
Ballast Displacement Ratio 44%
Power 50HP fwc Yanmar Diesel.

Sail Plan

Total Sail Area 1,039.6 sq. ft
Genoa 130% of FT 574.6 sq. ft 6oz.
Mainsail 332 sq. ft. 8 oz.
Staysail 133 sq. ft. 7 oz.
Storm Trysail 8 oz.
Cruising Genniker 3/4 oz.


Rig Dimensions
E = 15' 6"
P = 42' 10"
I = 49' 10"
J=17' 9"
Mast Above DWL 53' 8"

Interior Layout showing 3 cabins and 2 heads.
For more information on Ventana click on the links below:
Boat Systems
To see photos and read about Ventana's Systems click these links
Major Systems Anchors Communications Electrical
Engine Plumbing Refrigeration Sails and Rigging
To see photos and read about other modifications click these links
Deck Gear
Cockpit
Interior
Navigation Station
Safety Gear
Spares Carried
Stowage