Boat Modifications Major Systems Anchors Communications Electrical
Engine Plumbing Refrigeration Sails and Rigging Cockpit Deck Gear
Interior Navigation Station Safety Gear Spares Stowage

Outfitting The Ideal Sailboat
Selecting the right boat plus the best in Anchors, Sails, Power Generation, Electrical Systems, Safety Gear, Radios and more.
With an introduction by Gary Jobson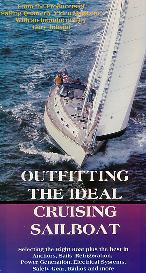 Prior to leaving for our seabatical we spent 20 years making documentary films, TV shows, commercials and corporate films. With Dee working as a Producer and Rob as a director/cameraman we traveled throughout the world for various international clients. The last six years of our working lives were spent producing a series of videotapes on sailing. These were for our own company Sailing Quarterly Video Magazine as well as for TV series on ESPN and The Travel Channel. Over six years we distributed over a quarter million videotapes on sailing. In the production of these videos we sailed on hundreds of boats from America's Cup racers to tall ships to dozens and dozens of cruising sailboats. We spent nearly 800 days at sea testing boats and gear and filming the results. When it came time to outfit our own boat we had a pretty good idea what gear worked and what did not and specifically how to optimize a boat for the type of liveaboard cruising we had planned. Our swan song was this video on what makes a good cruising boat and how one should go about outfitting it.
The first half of the video explains in detail what features a good cruising boat should have and why. The second half of the tape covers the hundreds of details of commissioning and shows why we chose the products we did.
Some of the items covered in the video include:
| | |
| --- | --- |
| | How to select the right cruising sailboat |
| | Deck features to insist on for cruising |
| | Sail inventory for cruisers |
| | Interior layout and features you'll need |
| | Which anchors performed best in controlled tests |
| | Using solar panels |
| | Selecting a wind generator |
| | The latest in battery technology |
| | Watermakers to add comfort and safety |
| | Using computers on board and making the most of electronic navigation |
| | How to select and use sea anchors and drogues |
| | Features to look for in singe sideband and VHF radios |
| | What makes a good liferaft |
| | and much much more! |
To go to our website and order the video click here.