Morocco Canary Islands Cape Verde Islands Atlantic Crossing Barbados

The Cape Verde Islands lie off the coast of Sengal in West Africa and our five day trip there was our worst passage ever. We had waited a few days for the weather to settle and departed with a good forecast and another vessel ahead of us reported OK weather, yet only 12 hours after leaving port the conditions worsened dramatically.
By the second day we were reefed down in 35-40 knot winds with higher gusts, and seas breaking into the cockpit and filling it about once per hour. For only the third time in 17 years we put the hatch boards in and stood our watches from below while lashed into our bunks. We had been in winds of this strength numerous times before but never coupled with such huge and confused cross seas from another direction. Soon the weather forecast caught up with our conditions and we knew we were in for 4 more days of 18 foot seas and very high winds.
Several times per hour the boat would be slammed by huge waves that would push the boat 10 feet sideways through the water. In a less solidly built boat or one with an unprotected rudder I would have feared for loosing the rudder, but in Ventana we were able to continue very slowly sailing south. On the third day one massive wave broke clear over the top of our bimini and wrenched our radar dome from its mount which was 12 feet above the water level.
Our friends on Resolute who were one hundred miles ahead of us had the same conditions which resulted in their wind vane self steering gear being ripped from its mounting on their stern.
Because the conditions were so rough we were forced to sail slowly which of course simply prolonged our misery. Finally on the fifth day conditions improved and we made our landfall on the island of Sao Vicente, Cape Verde, ever so glad to get the hook down and stop the motion.
The Cape Verde Islands were first settled by the Portuguese, but today feel more a part of Africa. It was here in the town of Mindelo we spent Christmas with other cruising friends. One afternoon Rob found a taxi driver whom he could converse with in Spanish and he agreed to give a group of us a tour of the island so we all piled in the back of his truck and away we went.
After the weather improved I was able to go on deck and take a picture of one of the smaller leftover waves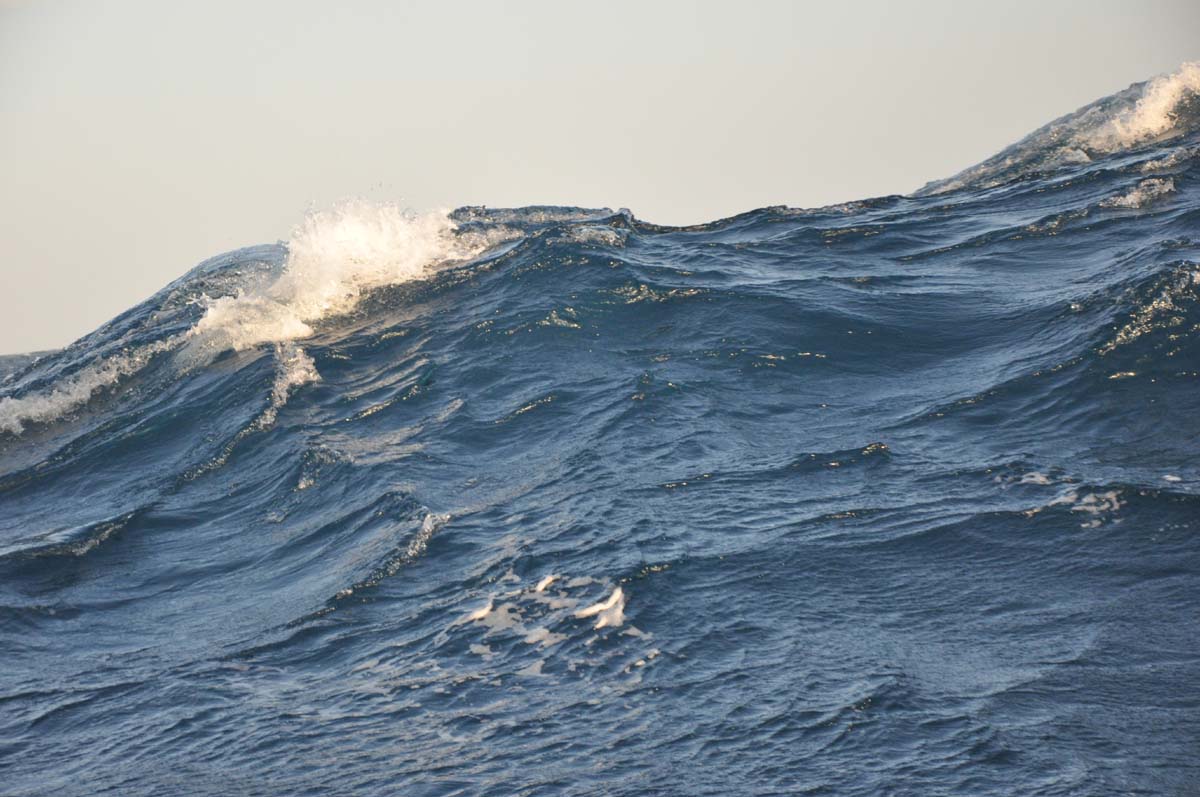 Click on any photo to enlarge it. Then hit your back button to return here.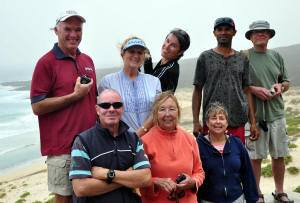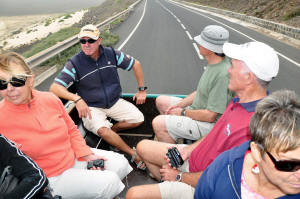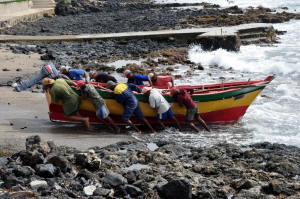 Crews from Ventana, Balvenie, Eye Candy, Resoute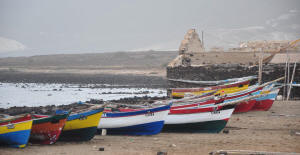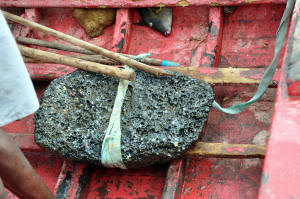 Local boats Daily Catch Anchor