Morocco Canary Islands Cape Verde Islands Atlantic Crossing Barbados



The Canary Islands proved to be an interesting stop. I had known very little about them before arriving so I had no preconceived ideas. Our first view was of a desolate volcanic landscape on the island of Graciosia. The Canaries are part of Spain but the inhabitants had copied the Greeks by adorning their bleak volcanic islands with towns made of entirely whitewashed houses.
The Canaries provided us our first real chance to reconnect with other cruisers. In most of the world's ports the cruisers congregate together for socializing, helping each other repair boats, trading information, etc. but in the Mediterranean cruisers were so much in the minority as compared to locals and charter boats that it was simply hard to find each other. Now outside the safety of the Mediterranean, the majority of the boats we encountered were long distances voyagers like ourselves. In no time we had a large group of friends, both new and old with whom we could share our adventures.
The islands are spread over 250 miles of ocean and each is quite different. One of our favorite stops was the cactus garden on Lanzarote. From there we hopped over to Las Palmas, Gran Canaria, home to the ARC. The Atlantic Rally for Cruisers (ARC) is an annual sailboat rally that departs from here each November for the Caribbean. Participants seem to be either big boats with large crews or smaller boats who are venturing forth on their first offshore ocean passage. We were not joining the ARC but it was great fun to watch their preparations. These include the tradition of painting the boat's name on the concrete walls surrounding the marina, indiscriminately buying up every item in all the chandleries, and a massive start with 200 boats vying to get away first.
A few days after the ARC departure Dee and I enquired of the 4 or 5 other US boats if anyone had Thanksgiving plans. None did so we decided to take action to make it happen. Since no single boat was big enough for all of us I first had to find a restaurant willing to let us use their facilities but bring our own Turkey dinner. Since Spaniards do not eat until 8 or 9 one Italian restaurant agreed to let 16 of us in for our own dinner at 3 pm. However before long all the Europeans, Kiwis, Aussies and others wanted to join in so Dee and I and our friends Mike and Margaritte from Ithaka organized the evening. All the American boats made the dinner and we invited the others as guests. Dee managed to fit a 16 pound turkey in Ventana's tiny oven. We hosted over 55 people from about a dozen different countries. The evening was complete with an explanation of Thanksgiving and live music.
Our last stop in the Canaries was a visit to our Welsh friends Mike and Irene who we had known well in Barcelona and who have a house on Tenerife. They are the consummate hosts and treated us to island tours and fantastic meals. From there we departed for the Cape Verde Islands farther down off the coast of Africa.
Click on any photo to enlarge it. Then hit your back button to return here.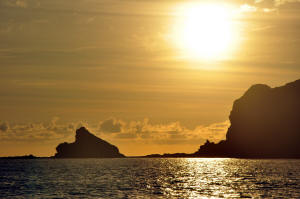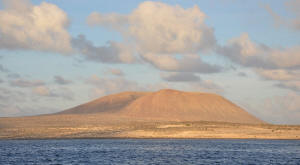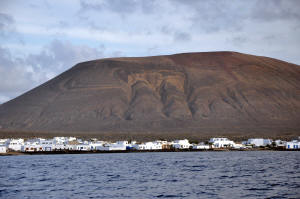 Sunrise landfall Volcanic Graciosa Island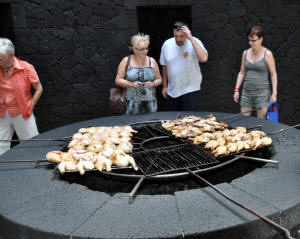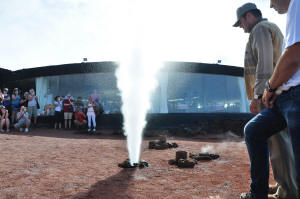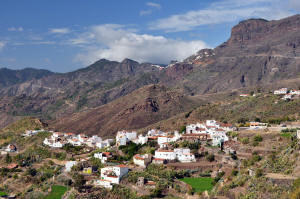 A restaurant using the volcano's heat to cook chicken
The Atlantic Rally for Cruisers annual departure for the Caribbean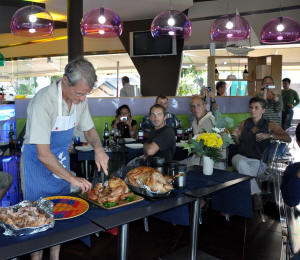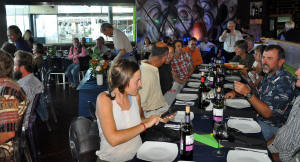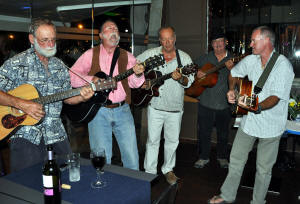 Thanksgiving was a huge success with over 55 participants and live music