Israel Cyprus Turkey Greece Croatia Italy Sicily Sardinia Corsica Monaco France Spain Gibraltar

Home of the BIG yachts
Porto Cervo, Sardinia, was where Italian billionaire Raul Gardini based his maxi and America's Cup race boats in the 1990's and the show of wealth continues with dozens and dozens of European megayachts calling it home for the summer.
When friends were looking for us in one anchorage Rob quipped that they should "look for the only boat in the anchorage that DOES NOT have a helicopter on deck and that would be us".
In Sardinia we had a chance to catch up with our friends Kelcey and her son Chris from the boat Lady Starlight. We had crossed the Pacific in company and they were now temporarily crewing with our friend Tony on Tactical Directions. Last time we had seen Chris in the So. Pacific he was a skinny 14 year old kid and now he towers over Dee.
Sardinia is home to the REALLY BIG yachts. The staging area for these monoliths is Porto Cervo but the harbor cannot handle the huge fleet of mega yachts so there is a giant mooring field in the next bay and the boats wait out there for their turn at the docks. We called it billion dollar bay.
A few years back when American Leslie Wexner owner of Victoria's Secret and other stores built Limitless at 315' it was one of the very largest yachts. Now Eclipse is being built at 557' (nearly two football fields) and a cost of over one billion dollars. There are several Russian oligarchs who seem to be competing with oil sheiks and they continue to one up each other every few years. Most of these yachts only have room for a dozen or so guests who are looked after by a crew of up to 70 to run the boat.
We crossed paths with Dilbar several times in the Med. At 360 feet it is now only 22nd in the rankings. But check out the photo of the crewman polishing the name to get a sense of the scale.
Many of the yachts carry several boats our size (40 foot) as tenders. Some have 2-3 helipads so the owner does not have to move his helicopter from the pad when his friends fly over for a visit in their own helicopter. One boat has two submarines that can carry 8 people and go a thousand feet underwater.
In Italy we also ran across Mirabella V the largest sloop (single masted sailboat) in the world. We had known the original owner and sailed with him on his original Mirabella. This fifth incarnation was another record breaker at 247 feet long with a mast 290 feet tall. She cost 50 million dollars to build.
For sailors like ourselves Sardina is one of the islands in the western Med where we can find well protected and comfortable anchorages. It was a welcome change from being forced to stay in marinas or rolly anchorages.
Click on any photo to enlarge it. Then hit your back button to return here.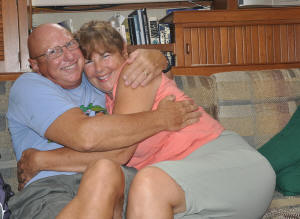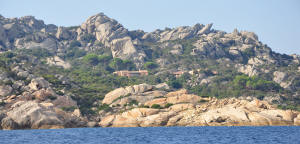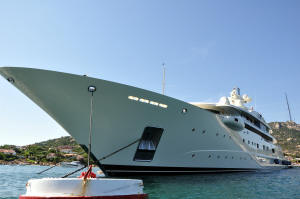 Rob and Kelcey Maddalena Islands Dilbar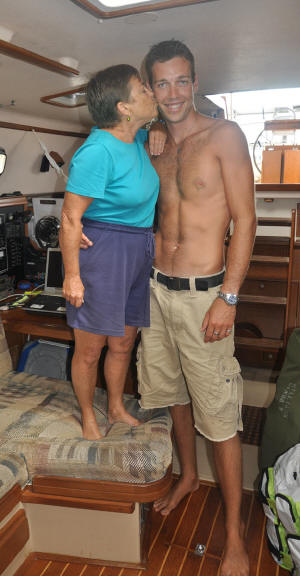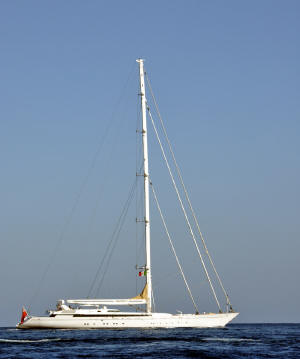 Dee and Chris Mirabella V-world's largest sloop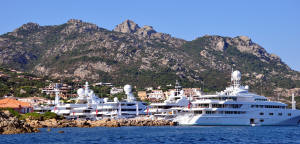 Porto Cervo Mooring field in billion dollar bay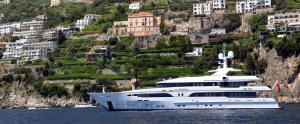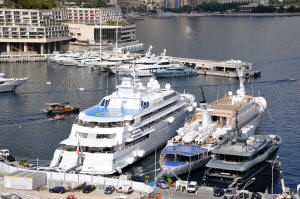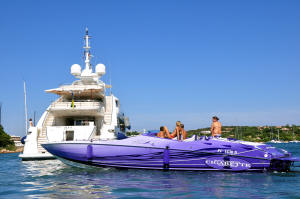 A smaller boat with only one helipad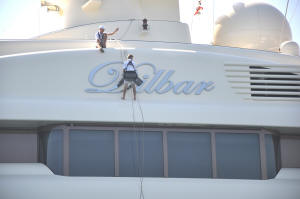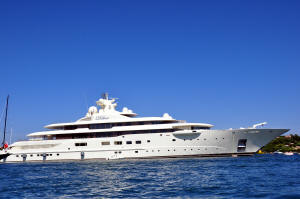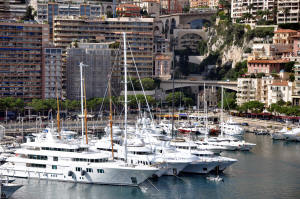 Polishing up Dilbar Dilbar Harbor at Monaco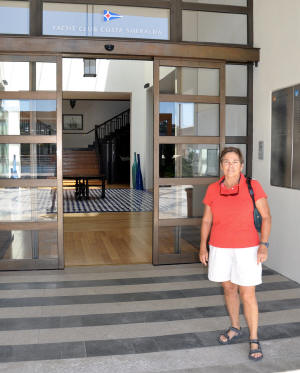 Dee visiting the Costa Smeralda Yacht Club