srael Cyprus Turkey Greece Croatia Italy Sicily Sardinia Corsica Monaco France Spain Gibraltar

Italy was like many countries in one. Low key marinas and working harbors along the boot and in some of the islands; dramatic scenery and volcanoes; historic sights at Pisa and Pompeii; touristy along the spectacular Amalfi coast and conspicuous consumption on display seeing the 300 foot plus Giga yachts at Capri and Costa Smerelda in Sardinia.
In addition to sailing two sections of the mainland coast we visited the large islands of Sicily and Sardinia and many small islands in the Aeolian and Tyrrhenian Seas. After sailing along the bottom of the boot of Italy under spinnaker we made landfall at Taormina, Sicily.
While Sicily and Sardinia are part of Italy, each island is so large and unique we have given them their own pages.
Click here for Sicily or click here for Sardinia and pictures of really BIG boats.
The narrow straits of Messina separate Sicily from the toe of Italy and when the tide changes millions of gallons of water are forced through this tiny opening. The speed of the current is stronger than many boats' engines so it is essential to transit the straits with the tidal currents in your favor. For us that meant an afternoon transit and a midnight arrival at our next stop which was the island of Vulcano. Just as the sides of a volcano are steep so the land below the water drops away directly into the ocean on that same pitch meaning our anchor was sitting in 70 feet of water which is always a challenge and makes for a restless night checking the anchor. Fortunately the next morning we managed to sung in closer to shore. Vulcano and its nearby neighbor Stromboli were both smoking and Stromboli rewarded us with a fantastic lightshow as we sailed by beneath it at dusk a few nights later.
After visiting the volcanoes we made landfall on the Italian mainland at Salerno where we played tourist visiting Pompeii and the Amalfi coast before setting sail along to Positano, Capri and the other tiny islands enroute to Sardinia.
Sardinia and the French island of Corsica were each a rugged feast in the middle of overcrowded Europe. Our next mainland landfall was on the Italian coast at La Spezzi. From there we visited Pisa and the Cinque Terre villages accessible by hiking from one to the next. At Portovenere we tasted the best pesto in the world and took with us two small bottles of this magic-- it was gone in a matter of days and we soon wished we had taken gallons. I guess we'll just have to go back for more.
At Portovenere we were able to meet Dee's sister Betsey and her husband George who were touring with half a dozen friends so an impromptu celebration was in order. From Santa Margherita we hiked over the hillside to the postage stamp harbor at Portofino in time to see a Porsche rally underway. Our last stop in Italy was San Remo where we pulled out our bicycles and rode along the coast to get a flavor for the famous San Remo bike race held there.
Italy also has a wonderful tradition of making buildings with flat two dimensional stucco walls then painting them to look completely three dimensional with shadings and imitation blocks, mortar, etc. Some were quite fantastic.
Click on any photo to enlarge it. Then hit your back button to return here.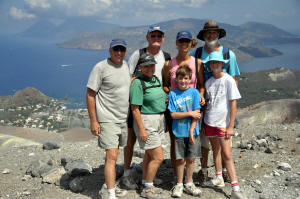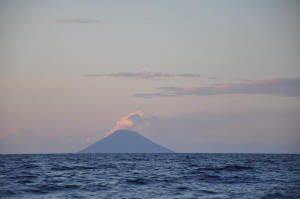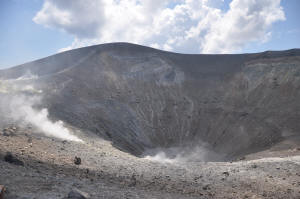 Climbing Vulcano with friends Smoking Volcanos Inside the crater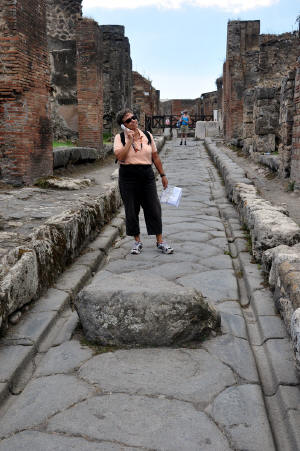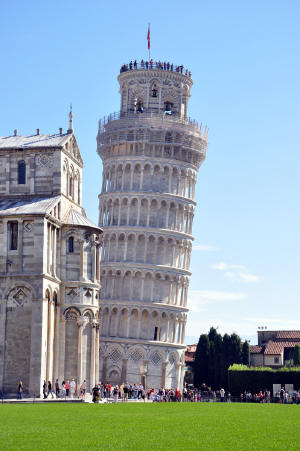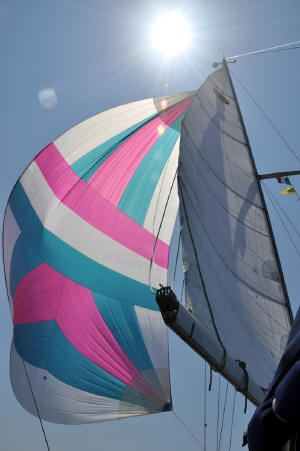 Visiting Pompeii Pisa Ventana flying the kite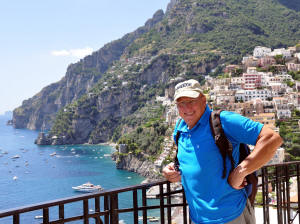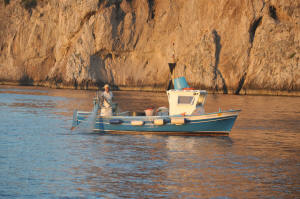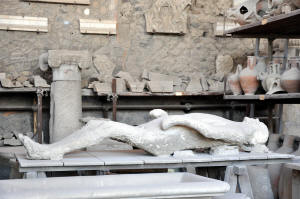 Along the Cinque Terra Fisherman Pompeii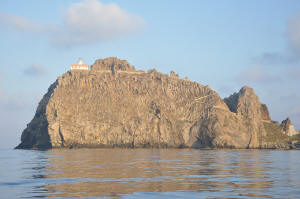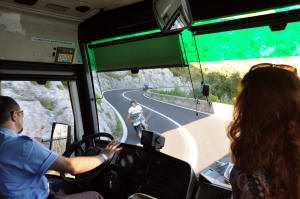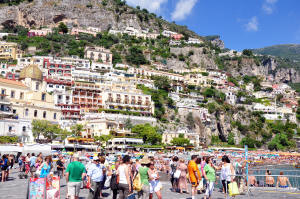 Lighthouse Driving the Amalfi coast Amalfi coast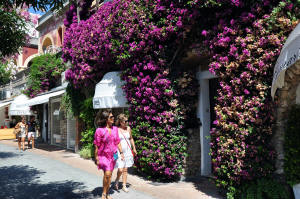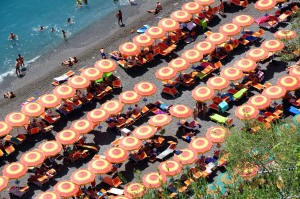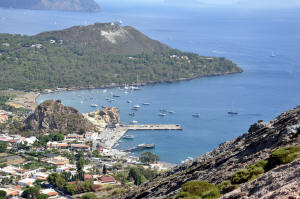 Stylish Capri Amalfi coast and Cinque Terre views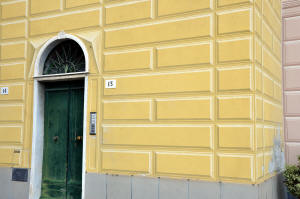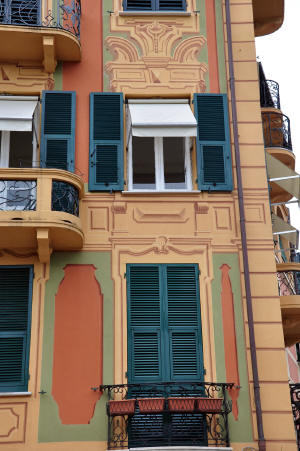 Flat white walls- all the blocks, shading, details, etc, are painted