Israel Cyprus Turkey Greece Croatia Italy Sicily Sardinia Corsica France Spain Gibraltar

Turkey is a vast and fascinating country. It spans nearly 600 miles east to west with one foot in Europe and the other in Asia. It shares borders with Syria, Iraq, Iran, Russia, Bulgaria and Greece. All sea borne traffic from the Mediterranean intended for the Black Sea countries must pass through the straits of the Dardanelles which run through Turkey. The Dardanelles also separate Asia from Europe so for millennia Turkey has been the cross roads between East and West.
Today that is exemplified in many ways. Turkey is a western style democracy but it is predominately Muslim. It is just outside the EU both geographically and politically and trying to get in. There are factions in Turkey that want it to be a Muslim caliphate aligned with its Muslim neighbors and those on the Arabian peninsula and there are factions pushing to modernize and join the European Union.
We had previously been to Turkey in the mid '90's and an experience we had then can perhaps best explain Turkey. We were in Istanbul wandering the stalls and shops of the central Bazar. On one corner of prime real estate we witnessed the final preparations for opening a new jewelry store. A sign painter was just just putting the finishing touches on the gold lettering announcing the name of the store and there were banners nearby proclaiming "Grand Opening". The new display counters inside were immaculate and the merchandise was what you might expect to see at Tiffany or any fine jewelry store on 5th Avenue in New York.
As we watched a workman came around the corner with a large goat (ram) in a wheel barrow and proceed to dump the braying animal on the door step of the new jewelry store. A few minutes later an imam in flowing robes arrived and shortly after that the the family and friends of the proud shop owner. Some in the crowed were in suits, ties and fancy dresses with high heels while others in long robes. As we watched fascinated, the ram was sacrificed by having his throat slashed. His blood flowed over the front steps of the immaculate jewelry store to assure that God would bless this enterprise. At that moment we realized Turkey was a thoroughly modern country still attached to the 14th century.
Many cruising boats arrive in the western part of Turkey which has the best sailing locations but we wanted to see some of the smaller towns and more authentic less touristy areas so we made landfall in a small town named Tassacu. From there we proceeded westwards exploring anchorages and some of the thousands and thousands of ancient ruins here. Turkey has far more Greek and Roman ruins than either of those countries and many are sitting nearly intact on hilltop after hilltop. We visited dozens of them- each fascinating in their own way.
Most of the sailing was very easy day hops in light winds but we did have an adventure on our only night passage when we were motoring 100 miles across the Bay of Antalya and our engine quit and would not restart. It was midnight and there was no wind at all for sailing. Eventually Rob managed to find the problem was clogged diesel lines and a dirty fuel tank. In a spurt of creativity we brought the jerry jugs of spare fuel from the deck down into the galley and lashed them in place. The spare fuel hoses we always carry came in handy to replumb the diesel feed and return lines to and from the engine. In a short time we were back underway. Dee was not happy about having 2 jugs of diesel fuel sloshing around in her kitchen but sometimes life on a boat is anything but normal.
We explored most of the Southern coast of Turkey then retreated to a marina to spend the winter. This was the first time Ventana had ever been in a winter climate and the farthest north of the equator our boat had been since 1996. The winter gave us a chance to explore other areas of Turkey including the amazing ruins at Ephesus, the fairy chimney formations of Cappodoccia, Pamukkale's white travertine rocks looking ever so much like a snow covered hillside as well as the charms of Istanbul including the famous Blue Mosque and incredible Haga Sophia Church.
Click on any photo to enlarge it. Then hit your back button to return here.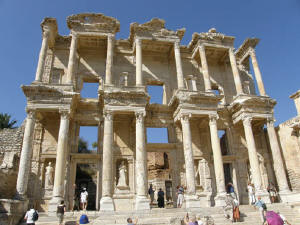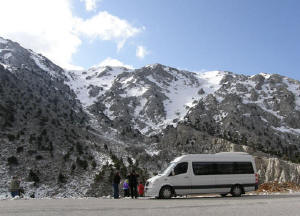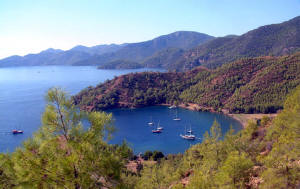 Library at Ephesus Tarsus Mountains Ventana at anchor in Skopea Limani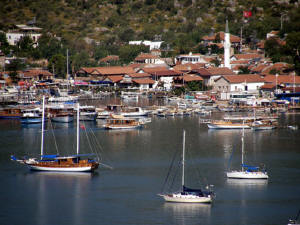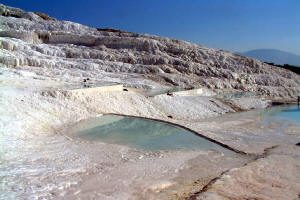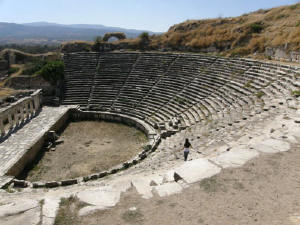 Ventana at Kekova Roads Travertine deposits at Pamukkale One of hundreds of amphitheatres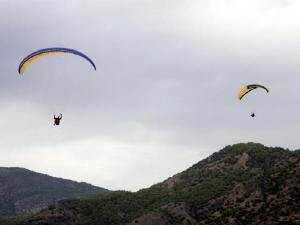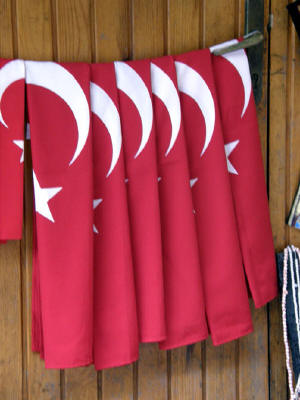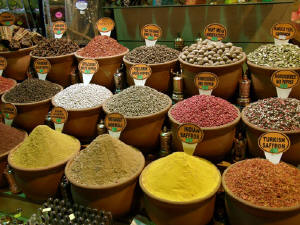 Olu Deniz Airfest Turkish Flags Spice Market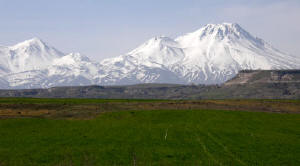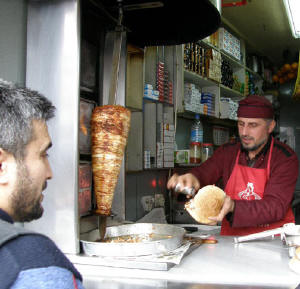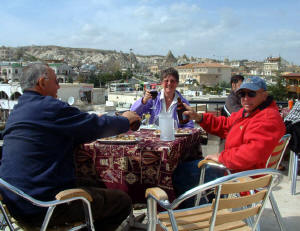 Tarsus Mountains Gyros John, Mo, Rob- Cappodocia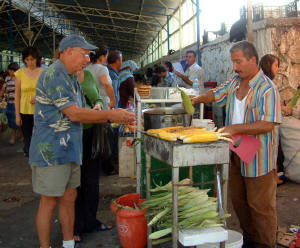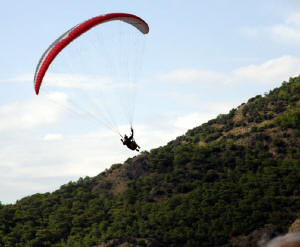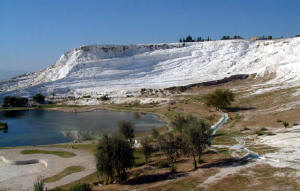 Rob in the market Paragliding Pamukkale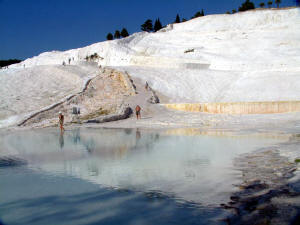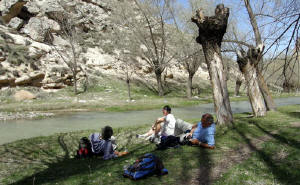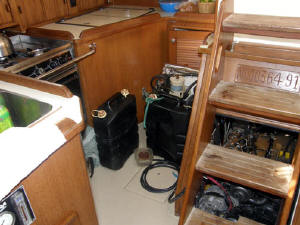 Pamukkale Hiking in Ihlara Valley Clogged fuel lines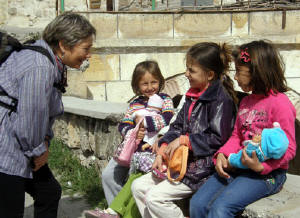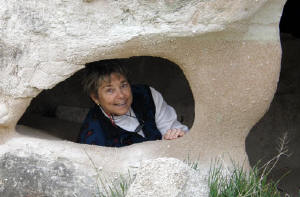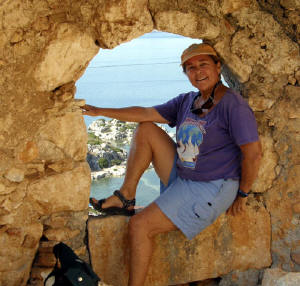 Dee and local girls Cappadocia Kekova Castle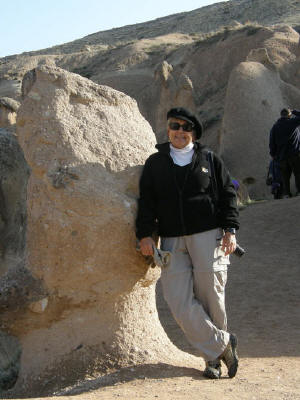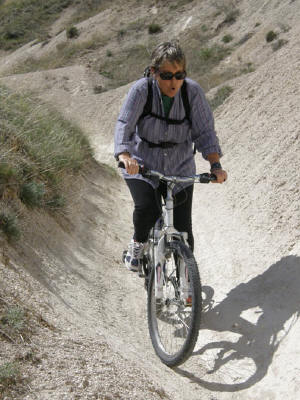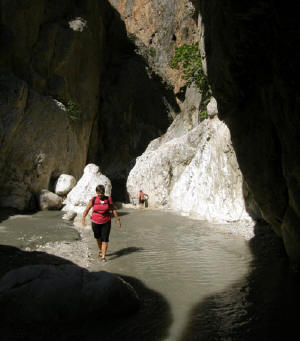 Cappadocia Mtn. Biking Cappodocia Hiking in Saklikent Gorge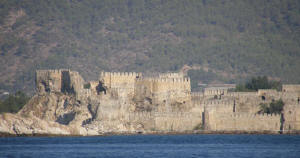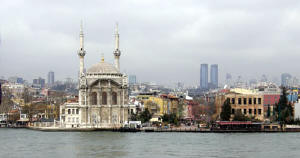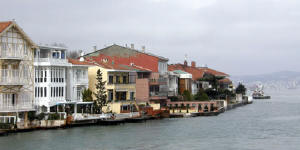 One of dozens of castles along the Med Along the Bosphorous in Istanbul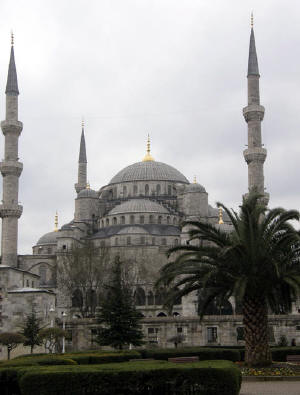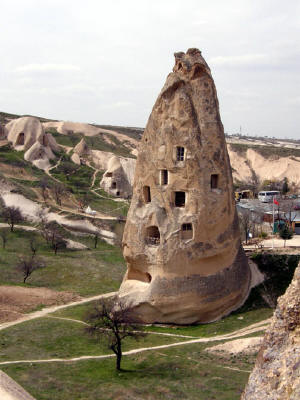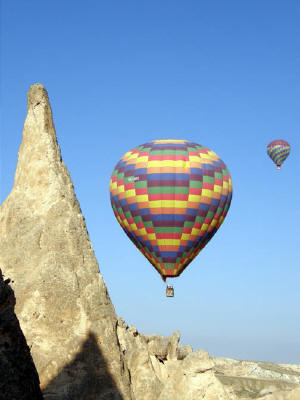 Blue Mosque Cappodocia rock house Over Cappodocia
A bit more of Turkey
Click here for a bit more about the ruins in Turkey, the incredible rock houses and fairy chimneys of Cappodocia and see paragliders and jet fighters at the Olu Deniz airfest.