Israel Cyprus Turkey Greece Croatia Italy Sicily Sardinia Corsica Monaco France Spain Gibraltar

What can we say about Spain, the country that gave us Don Quixote, bullfighting, tapas, Flamenco dancing, and Gaudi? Rob had spent a semester in high school here and though his Spanish vocabulary had diminished a bit he was anxious to get reacquainted with Spanish culture.
How many architectural masterpieces can one country display? Apparently more than anyone can count: the "new" bridge over the gorge at Ronda built in 1793; the Alhambra Palace dating from the ninth century; Cordoba's fantastic mosque built in 785 and modernized in the tenth century; dozens and dozens of incredible buildings designed by Gaudi in the 1880's and which look avante garde today. One of Spain's most famous buildings and a UNESCO world heritage site is the Sagrada Familia cathedral started over 100 years ago and still under construction today with 4 cranes and 350 workers pouring over it daily. It may be completed in a few dozen more years. The ultra modern Guggenheim museum opened in Bilbao in 1997 with not one straight exterior wall and an outer surface of gleaming titanium tiles. The list goes on and on.
When Spain conquered the new world in 1521 the gold of the America's began to flow towards Madrid and much of it found its way into fantastic architecture.
We arrived in Spain in the fall of 2010 near Barcelona. The city marina there was full so along with our friends Sam and Bill from yacht Blue Banana, we settled into a marina 10 miles away from the city center in the town of Badalona. Here we enjoyed a normal non touristy Spanish town, joined the health club, rode our bikes along the malacon on Sundays and in general got into the Spanish way of life-- good wine, hundreds of varieties of olives, smoked country ham and nightly tapas.
Barcelona was the host city for an around the world sailing race and our good friend Gary Jobson with whom we had done Sailing Quarterly Video Magazine came to town to report on it for television so we had a great time catching up and touring the sites of Barcelona together.
After spending the winter in Barcelona we slapped new bottom paint on Ventana and then set sail for the Baleric Islands where Rob was fortunate enough to run into a friend in the gyro flying community who let him fly the gyro around the south coast of Mallorca for some aerial sightseeing.
Aside from the joy of the flying we struggled to find comfortable anchorages and any sign of other cruisers like ourselves. Mostly we found the Balerics overrun with English package tourists. They come down in huge groups and their daily routine seems to be up at 10 am for a full English Breakfast, an afternoon sleeping and getting sunburned on the beach, followed by watching football on the telly and then an evening of maximum alcohol consumption until they forget their names and the name of their hotel thus collapsing on any convenient horizontal surface. We assumed this was exactly what they did at home but here they had beaches to sleep on. The guidebook commented, "even soccer hoodlums need a vacation sometimes".
On Ibiza, the evening starts with crowds gathering to watch the sunset followed by dinner around 10 pm and discos until dawn. The real draw are the nightclubs which are the largest in the world with Privilege holding 10,000 partiers.
We decided discos and nightclubs were not the reason we went sailing, so joined by our visiting friends from Colorado we set sail for the classic old city of Cartagena on the mainland. The weather forecast was for a nice 15 knots from behind so our friends excitedly settled in for their first overnight passage. By the midnight watch change the wind was well over 30 knots and we were surfing downwind with about 10 sq. feet of genoa out so I insisted our new crew go below where it was safer, and there they remained until morning.
Just before sunrise we had some excitement dodging 3 converging container ships. Our meeting came right where the coast and adjacent shipping channel made a dogleg turn to the north so the ships had to change course, dodge each other and merge with traffic from our southerly direction. Fortunately they realized we were struggling in the huge seas and were very courteous with one ship even detouring around us. By 10 am we turned the corner into the bay of Cartagena and the seas and winds calmed down.
We were all glad to get tied up in the marina and especially so when we found out our good friends Lenny and Gina from yacht Feijao were there. Feijo and Ventana had transited the pirate infested waters off the Horn of Africa together several years before but we had not seen them since a year and a half previously in Turkey. Over the coming days we enjoyed each others company greatly. Like most cruisers meetings it took us only seconds to pick up our friendship as if we had never parted.
After several inland travels in Spain including Rob returning to where he had attended high school 40 years previously, we hopped along the coast towards Gibraltar. One high point was arriving in Fuengirola just in time for their annual fiesta which included fancy dress costumes, horses and a huge fair.
Viva la Espana!
Click on any photo to enlarge it. Then hit your back button to return here.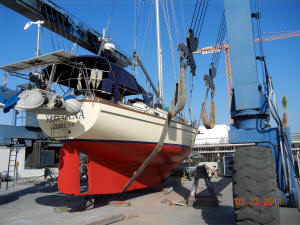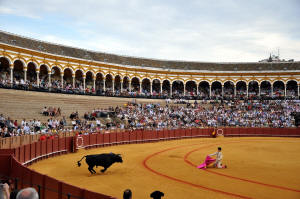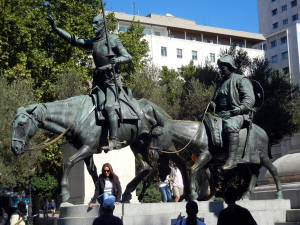 Ready to relaunch Seville Bullring Don Quixote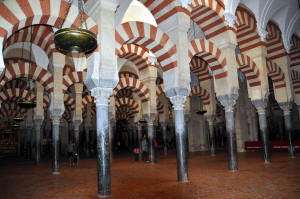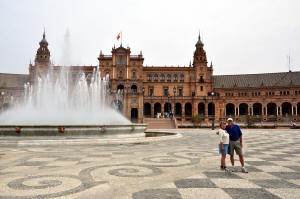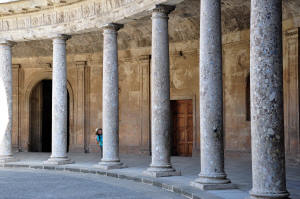 Cordoba Mosque Plaza de Espana in Seville Palace of Carlos V in the Alhambra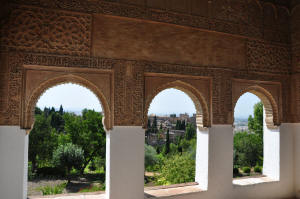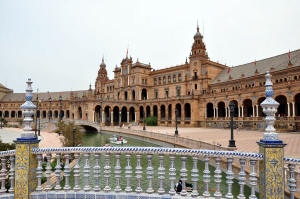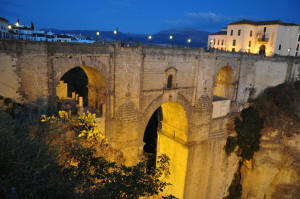 Alhambra Palace Plaza de Espana in Seville Ronda's "new" bridge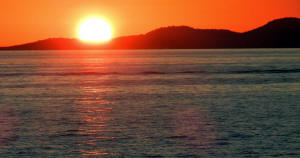 Ibiza sunset Tutus are in style Sunset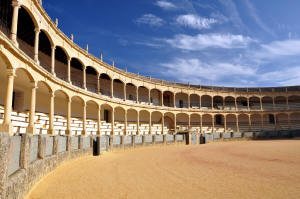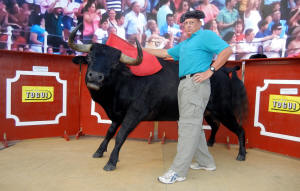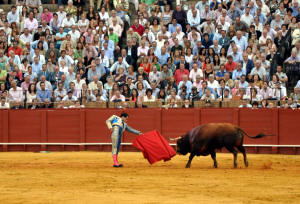 Ronda's historic bullring One of Spain's most famous matadors Moment of truth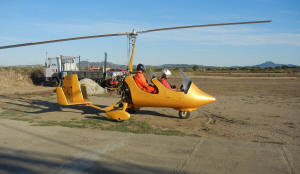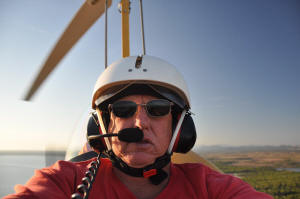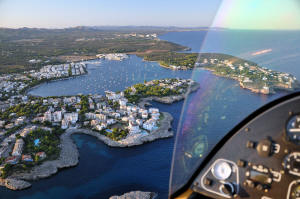 Ready for take-off Rob flying over Mallorca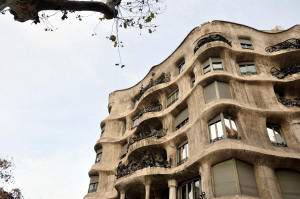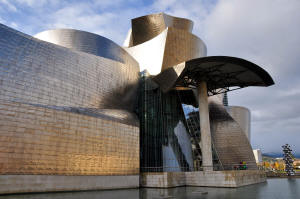 Gary and Janice Jobson touring Gaudi's La Pedrera building Guggenhiem Museum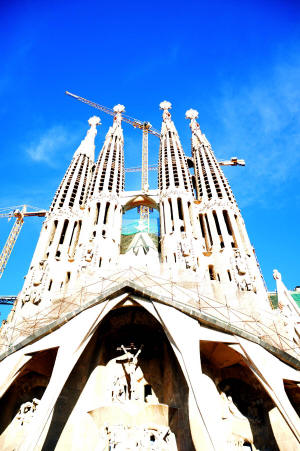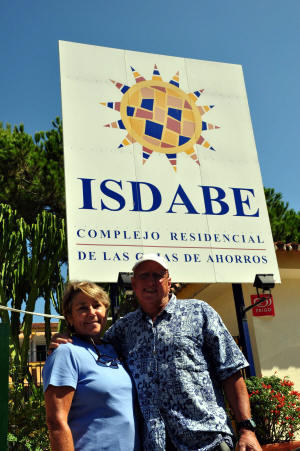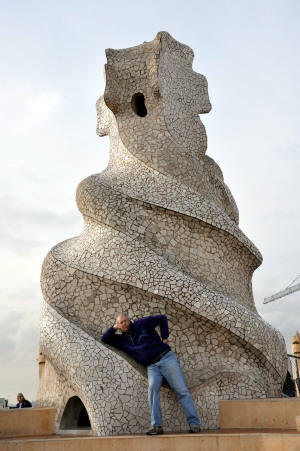 La Sagrada Familia Found my old high school Gary and Gaudi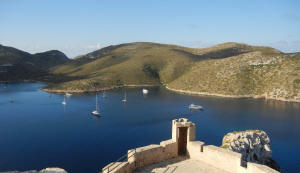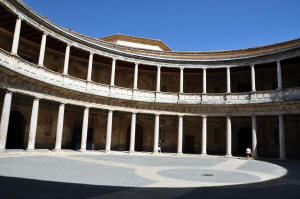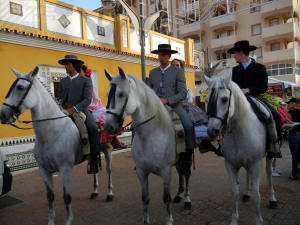 The fort on Cabrera Island Alhambra Palace Horsemen in Fuengirola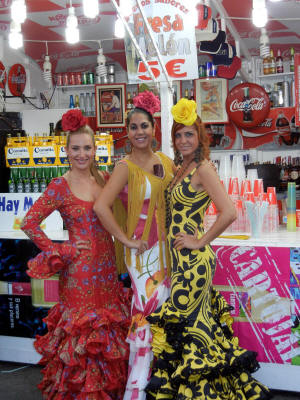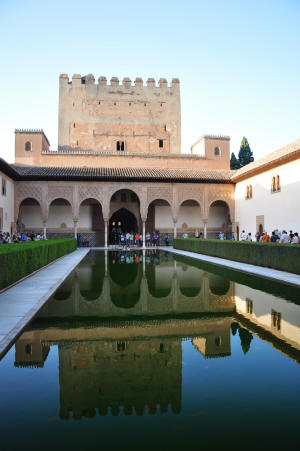 Ladies dressed for the fiesta Alhambra Palace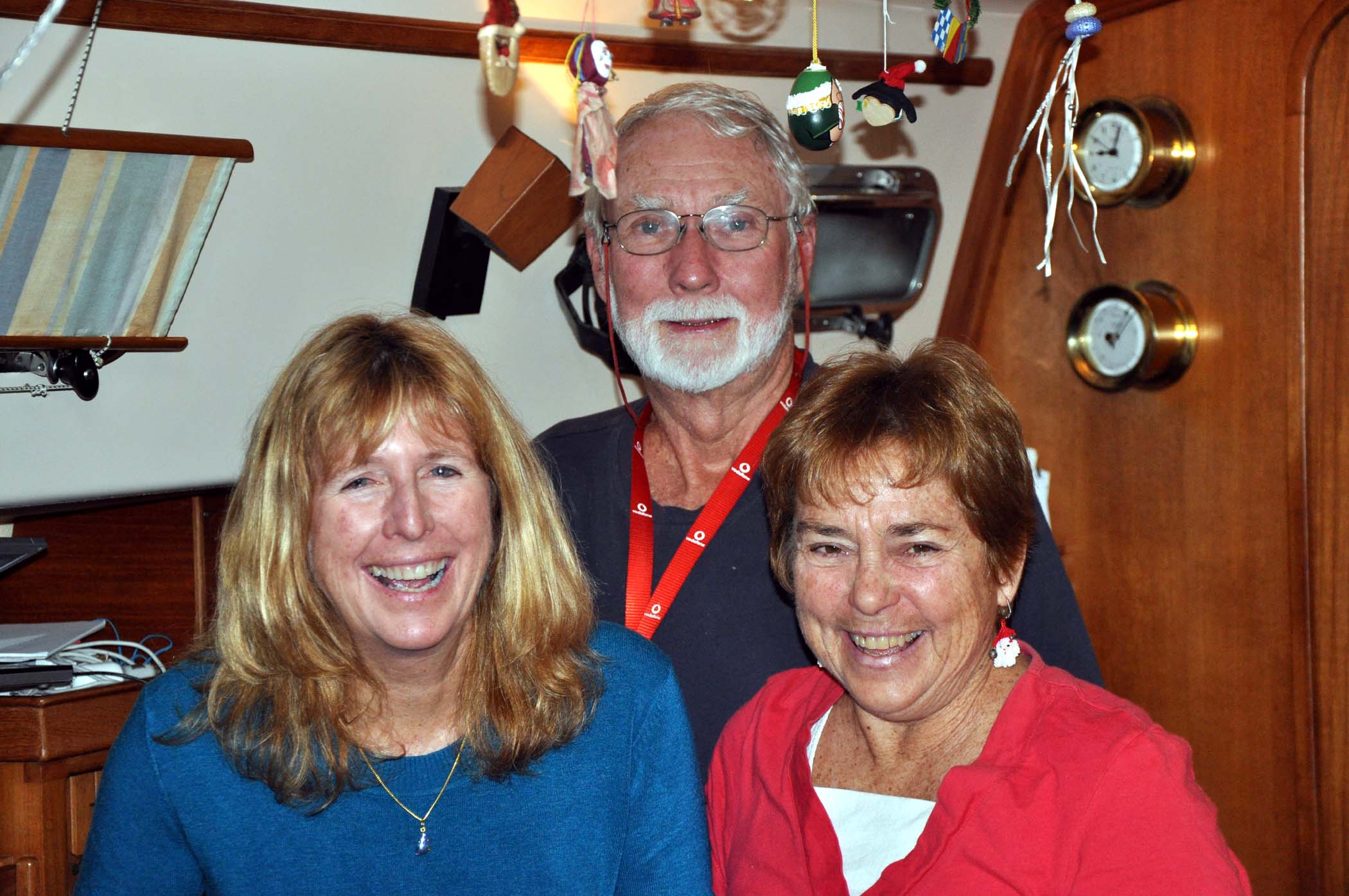 Sam, Bill and Dee on Ventana for Christmas 2010 in Barcelona. A few months later our lovely friend Sam lost her battle with cancer. We miss her and will remember her always.