Israel Cyprus Turkey Greece Croatia Italy Sicily Sardinia Corsica Monaco France Spain Gibraltar

Our landfall in Sicily was a dramatic anchorage below the town of Taormina. Taormina town sits on a hillside about 1,000 feet directly above the anchorage. The bus ride to town was up a set of nearly vertical switchbacks straight up the hill. We made the trip several times as our stay there coincided with a music festival featuring free concerts nightly.
Sicily is the home of Mt. Etna one of the most active volcanoes in the world. At nearly 11,000 feet and only a few miles from the sea the road to it is steep and rugged. On the short hike we took up the volcano we were not disappointed as it was constantly spewing sulfur and ash into the air.
From Sicily we transited the straits of Messina trying to get a boost from the 4 knot current and simultaneously dodge the 33 knot hydrofoil ferries. The straits are also plied by strange looking boats hunting swordfish. The boats have a spotting tower 50 feet or more off the deck and a bow sprit for the harpooner that projects out 100' in front of the boat.
Click on any photo to enlarge it. Then hit your back button to return here.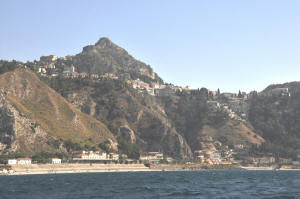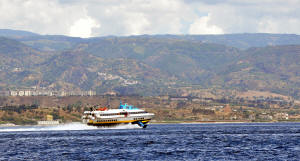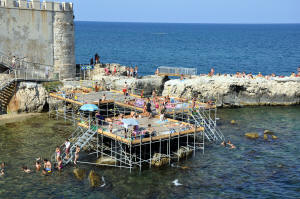 Cliffside Taorimina Ferry at 33 knots Italian Beach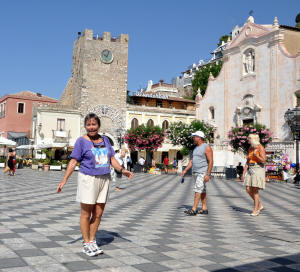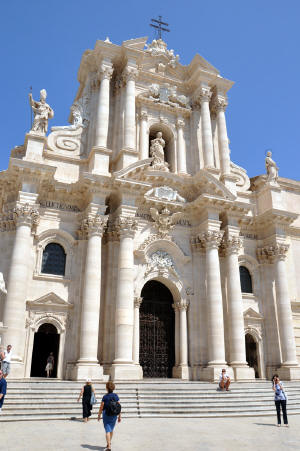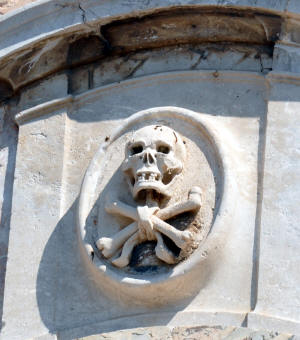 The church in the main square of Taoramina featured a skull and cross bones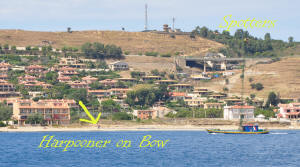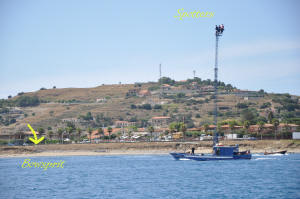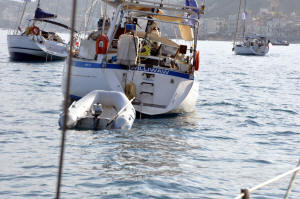 The incredible swordfish hunting boats with 50 foot towers and bowsprits Rolly anchorage